Not everyone has the luxury of having big windows that let in lots of sunlight. Many apartments and houses have at least one room that is continually dark. A dark room can cause accidents, eye-strain, and even a sour disposition.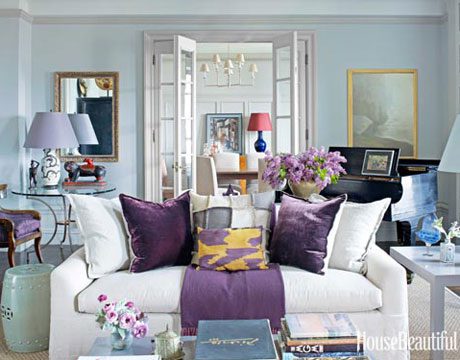 If you'd like to add more light to your room – without taking a sledgehammer to your walls, try a few of these room-brightening tricks. A brighter room will lead to a brighter mood!
Paint your walls a light color, and use eggshell or semi-gloss paint. Dark, matte finishes actually soak up the light, making the room seem darker – even when you put the lights on, but lighter, glossier paints will reflect the light back into the room.
Keep your ceiling white. It's amazing the difference that a white ceiling makes on a room. Just like dark walls, a darkly-painted ceiling will absorb a lot of the available light.
Add more lamps. Yes, this seems obvious. But many homeowners rely solely on overhead lights to illuminate the room. Light needs to come from various levels – low, middle, and high. Combining uplights on the floor and lamps on tables around the room with overhead lighting will create a brighter, more comfortable room.
Hang large mirrors. Large mirrors can act like windows, reflecting the light back into the room.
Choose reflective surfaces. Just like walls, other large surfaces can absorb or reflect your light. Opt for glossy countertops, add glass panes to your hanging artwork, and place mirrored trays on top of dark tables.
Light is important for your physical and mental health. So make sure your home is getting all the light that it can get!