Luxury Interior Design Services
For the Philadelphia and Main Line Areas
Our process starts with getting to know you. We ask a lot of questions. We listen attentively as you tell us what is important to you, as you share your ideas, your values, and the vision you might have for your home. Show us pictures. Tell us a story of a quaint chateau you stayed in, while vacationing in the rolling hills of Tuscany. Perhaps you saw a room or space in a movie or a magazine that you absolutely loved. We want to hear about it. It all helps to paint the picture.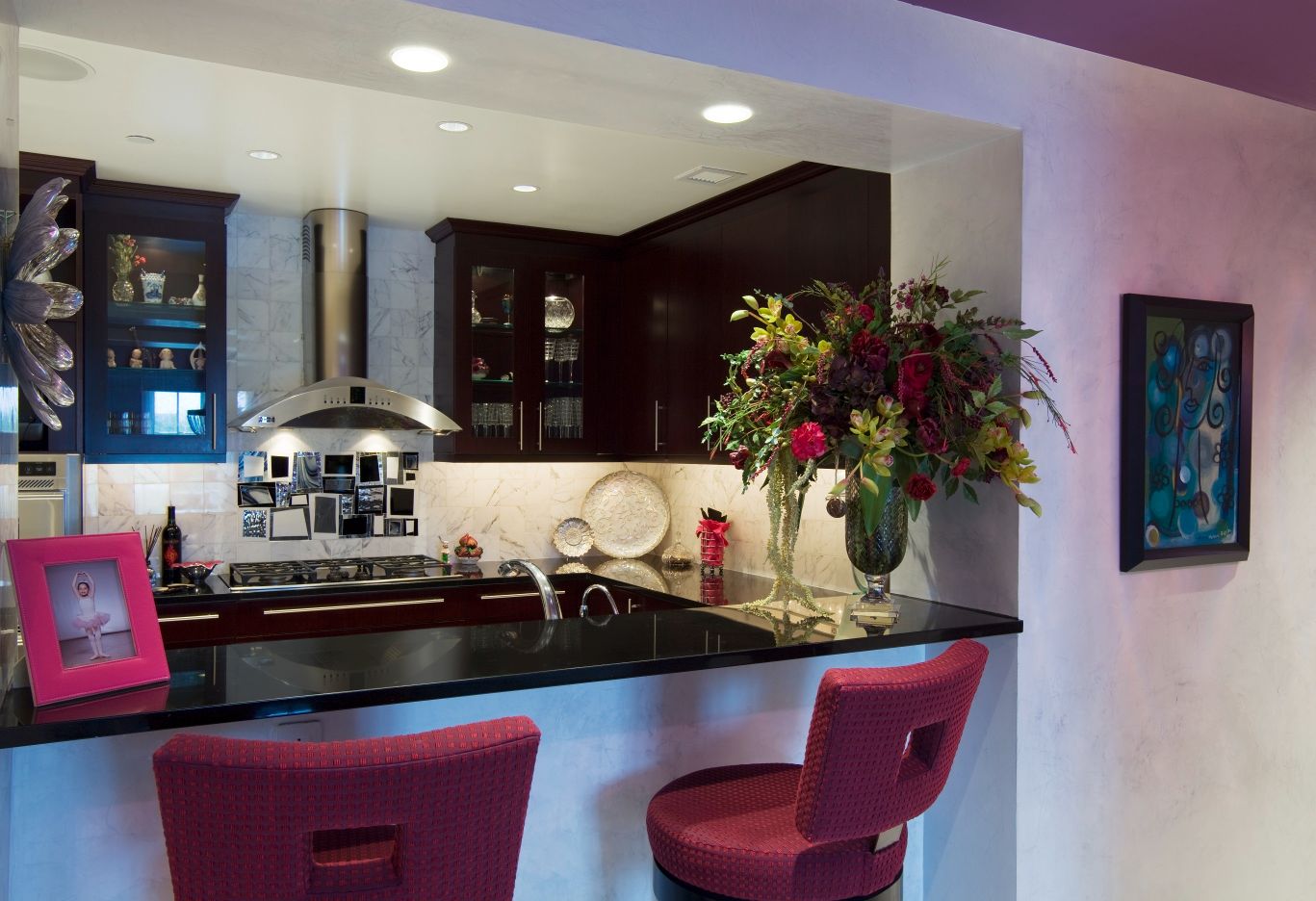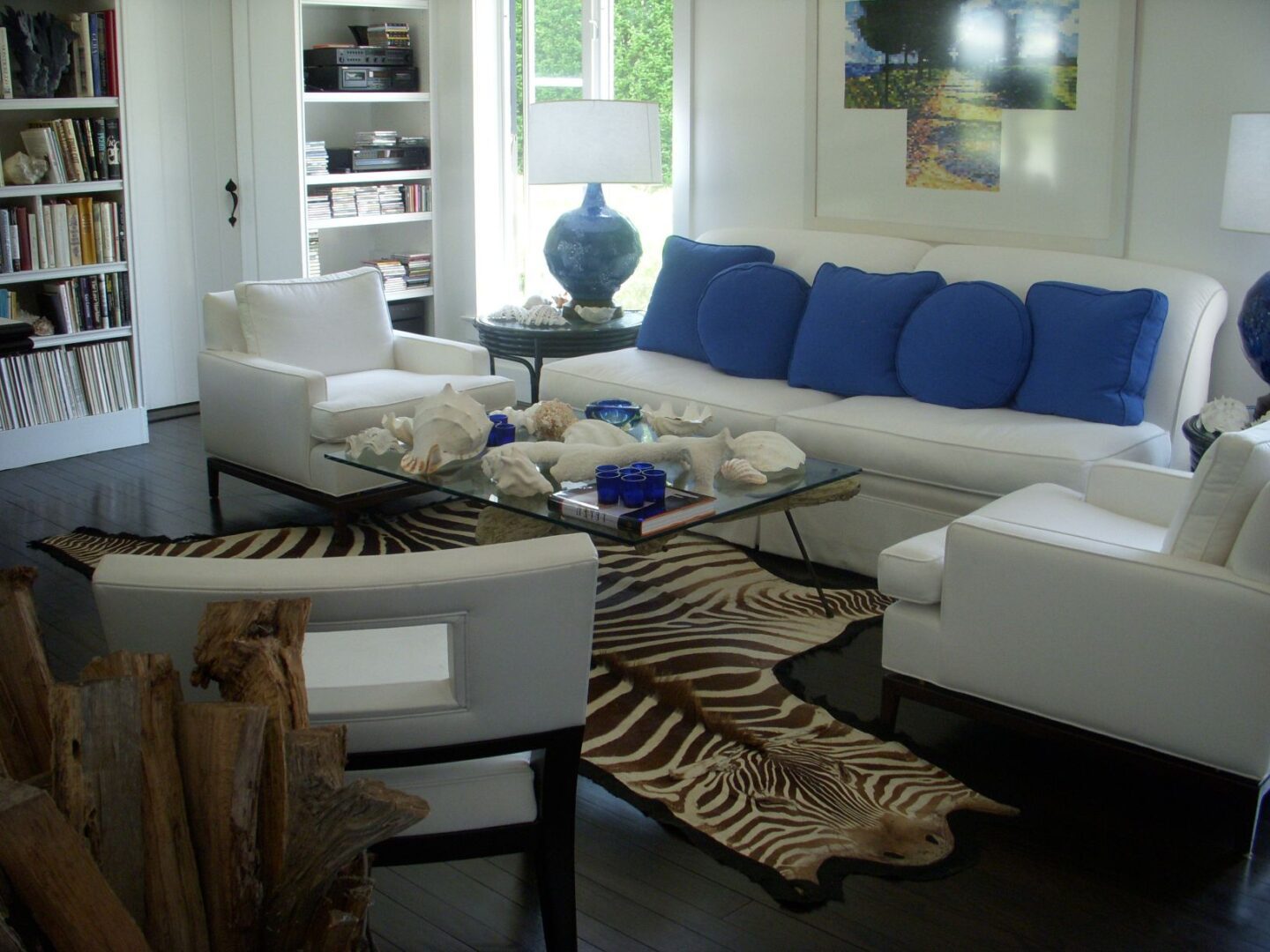 Our approach is to listen, learn, share ideas, and collaborate with you, as we organize a vision that is going to work for your lifestyle. Then we execute that vision with impeccable attention to detail and turn all of the ideas, pictures, and dreams…into reality.
Your Environment Plays A Big Part In How You Feel. You Should Live In Harmony With Your Desires. We Think Comfort And Chic Should Be Synonymous.

We Don't Work By Any One Set Of Rules. We Work Mostly From Instinct. We Are Always Trying To Create A  Sense Of Balance. We Don't Mean Necessarily Pairs Or Symmetry—We Mean Aesthetic Balance.

Magic Happens When You Arrange And Rearrange And Then Curate It Again. Again Working From Instinct.
✓ Safe – Eliminate hazards and barriers.
✓ Healthy – Use of products and designs that improve and maintain human wellness.
✓ Accessible – The design of products and environments to be usable by all people, to the greatest extent possible, without the need for adaptation or specialized design.
✓ Connected Environments – Referring to being able to connect to the home and family members, and the use of smart technology.
✓ Independence – Live with the least restrictions possible.
✓ Dignity – To offer honor and respect as a human being.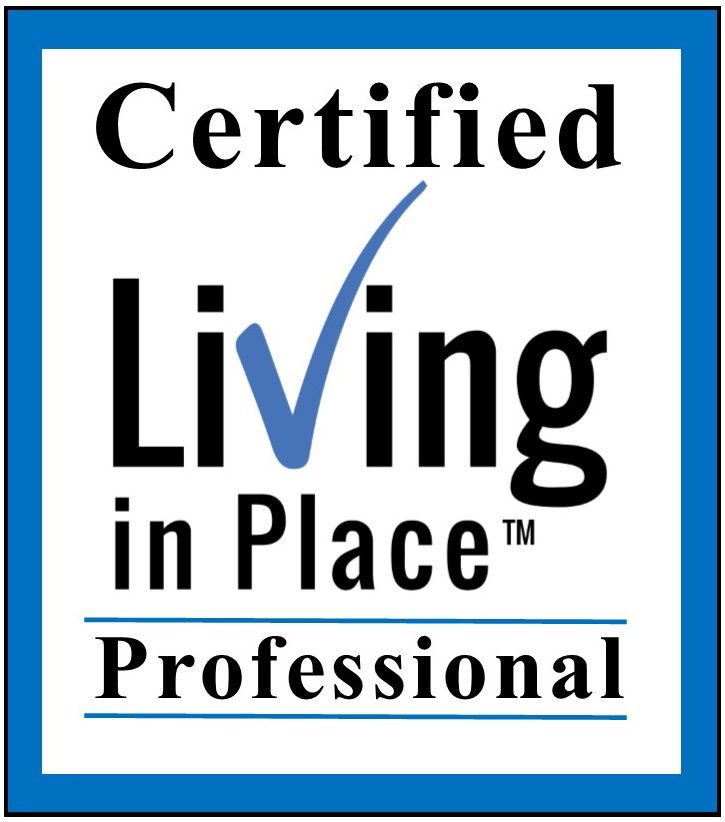 Designer For a Day services provides you with expert guidance from us, your Interior Design Partner. Allow us to assist you with parts of the project that most home owners find especially overwhelming and to help you avoid making costly mistakes.
Details of what we can assist you with in your project may include, but are not limited to:
Flooring options / selecting hardwood
Floor or wall tiles
Backsplash and grout recommendations
Countertops and profile selections
Cabinetry finish/color/style and hardware choices
Lighting
Paint colors for walls, ceiling & trim
Plumbing fixtures such as faucets, sinks, tubs and shower controls
With our expertise and knowledge, you can feel confident knowing that you have us by your side to offer solid advice and answer questions relating to any design aspects of your project.
What does it mean to have a Designer By Your Side?
We support you, our client, to guide you confidently through your project and help you where you need our consulting services most.
From recommendations in sourcing your final selections and finishes, to custom furniture purchases, we assist you in achieving a cohesive look and well put together design.
With our expertise and knowledge, you can feel confident knowing that you have us by your side to offer solid advice and answer questions relating to any design aspects of your project.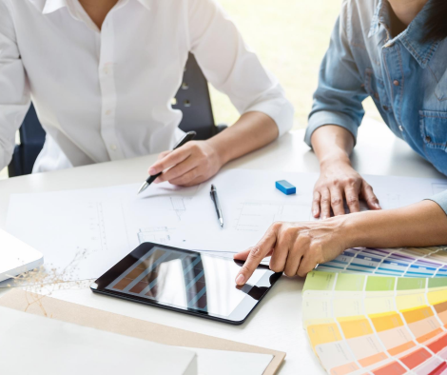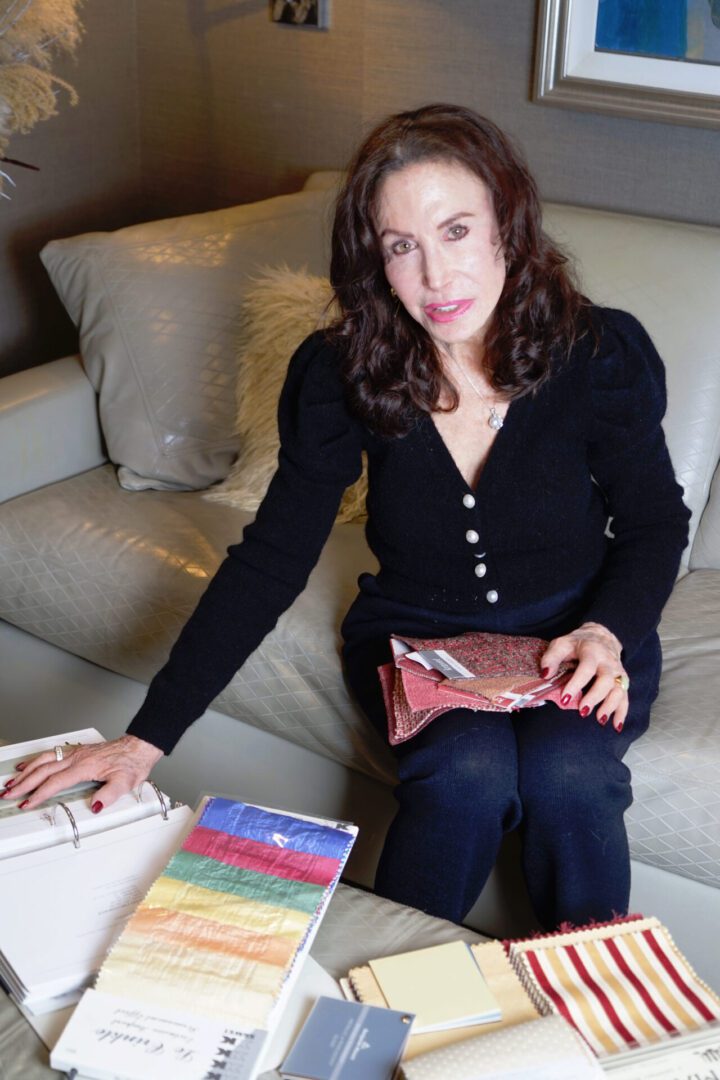 What type of design services are included?
Services may include, but are not limited to:
In-person meetings and communications with clients
Floor plans and layout ideas;
Guidance for kitchen and bath design;
Sourcing and purchasing of items;
Sourcing and selection of finishes & furnishings;
Selecting paint colors;
Liaising and meeting with trades & vendors;
Reviewing quotes and estimates;
On site appointments and walk-throughs;
Managing of custom window treatments, picture framing & upholstery orders.
New Virtual Design Package
$795.00 for your first room
PRELIMINARY DESIGN QUESTIONNAIRE

So we can learn about you.

45 MINUTE VIDEO CALL

To discuss one room in your home.

PERSONALIZED DESIGN PRESENTATION:

Furniture dimensions with your new floor plan
Paint color and color palette suggestions
Furniture suggestions
Delivered in a beautiful digital presentation!

DESIGN PRESENTATION CALL

To review your presentation together for 45 minutes.

PURCHASE FURNISHINGS (OPTIONAL)

Furniture presented can be purchased through Arlene Bobb Interior Design or retailers.


*Please note: virtual design package does not include furniture purchases or freight and delivery.
Additional Round Of Furniture Options

Add Another Room Design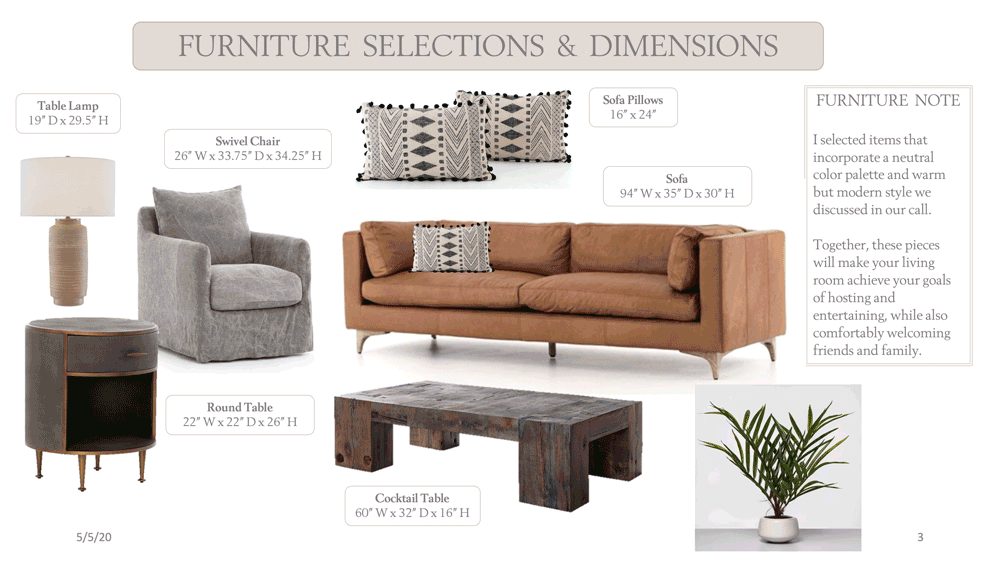 *Every client is different. This is a mockup.
HOW WILL YOU PRESENT MY ROOM DESIGN?

Your room design will be presented to you digitally during your 45 min presentation call. It will include a floor plan, paint color, and color palette suggestions, and furniture suggestions (with dimensions) curated just for you. After your presentation call, your designer will email you the fully digital design presentation for your reference!

WHAT IF I HAVE MULTIPLE ROOMS THAT I WANT TO WORK ON?

Then we want to help! We offer a special rate of $600 per room added on to your original package.

IF I HAVE AN OPEN-CONCEPT DINING AND LIVING ROOM, DOES THAT COUNT AS "ONE ROOM"?

Unfortunately, it doesn't. Please note that "one room" is defined by one function. However, a kitchen with an eat-in nook would be counted as one room.

WHAT IF I WANT TO SEE MORE FURNITURE OPTIONS?

If you want to choose from more furniture than what's presented initially, we offer additional rounds of furniture presentations for an add-on of $300 per round.

Whether you're changing one furniture piece, one paint color, or all… we know the huge impact this has on your everyday life. We're here to make a hard decision easy… designing your home to work for your lifestyle.

HOW DO I SCHEDULE MY VIDEO CALLS WITH MY DESIGNER?

After you purchase your Virtual Design Package, you will be sent a questionnaire to fill out for us, followed by a link to schedule your first appointment. Easy as that!

WHAT TYPES OF QUESTIONS WILL I NEED TO ANSWER ON THE DESIGN QUESTIONNAIRE?

We will ask you questions based on your style, color, and pattern preferences. We'll want to know general measurements and information about your room. We will also ask questions related to your lifestyle needs and whether you're including existing furniture into your room design. There will be a design quiz you receive to help us find your design style!

WHAT APPLICATION DO YOU USE FOR A VIDEO CALL?

We use Zoom, and it's as easy as clicking a button to join the call! If you are more comfortable, phone calls, FaceTime, and email work just as well!