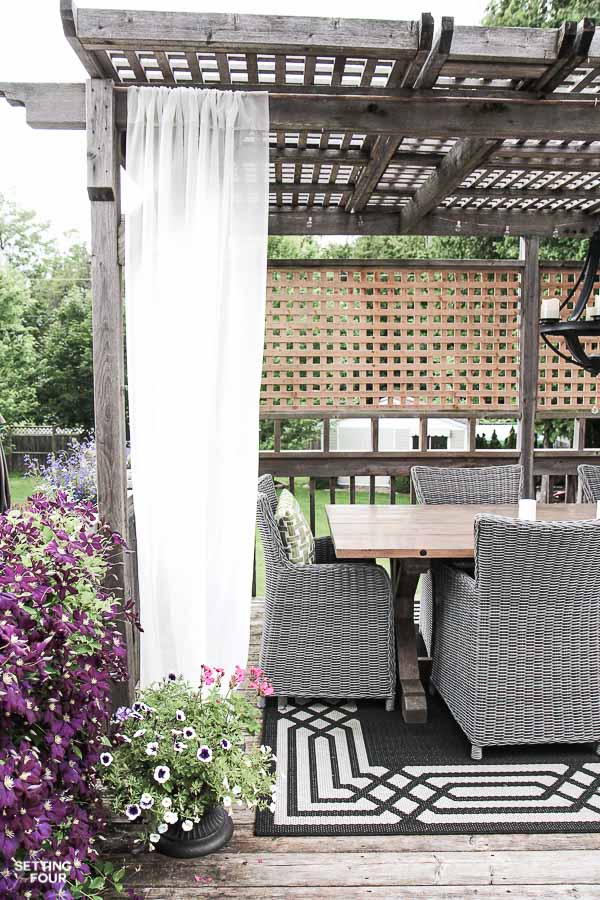 Welcome back to Part Two of our outdoor decor ideas series! Make sure to check out Part One from July 21st if you missed it. Let's jump in!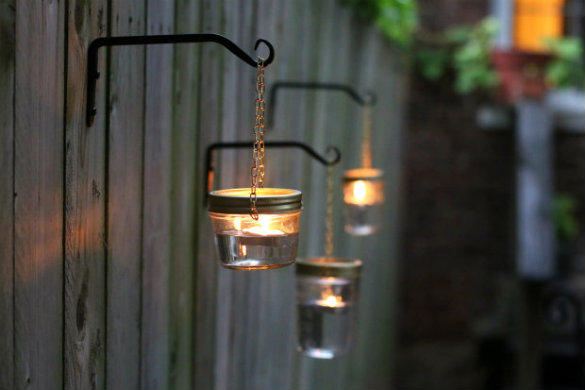 DIY Outdoor Hanging Mason Jar Lights
These darling farmhouse style DIY hanging mason jar lights come from 17 Apart. Floating tea lights in water provides the perfect summer glow. What a great way to decorate a wooden privacy fence!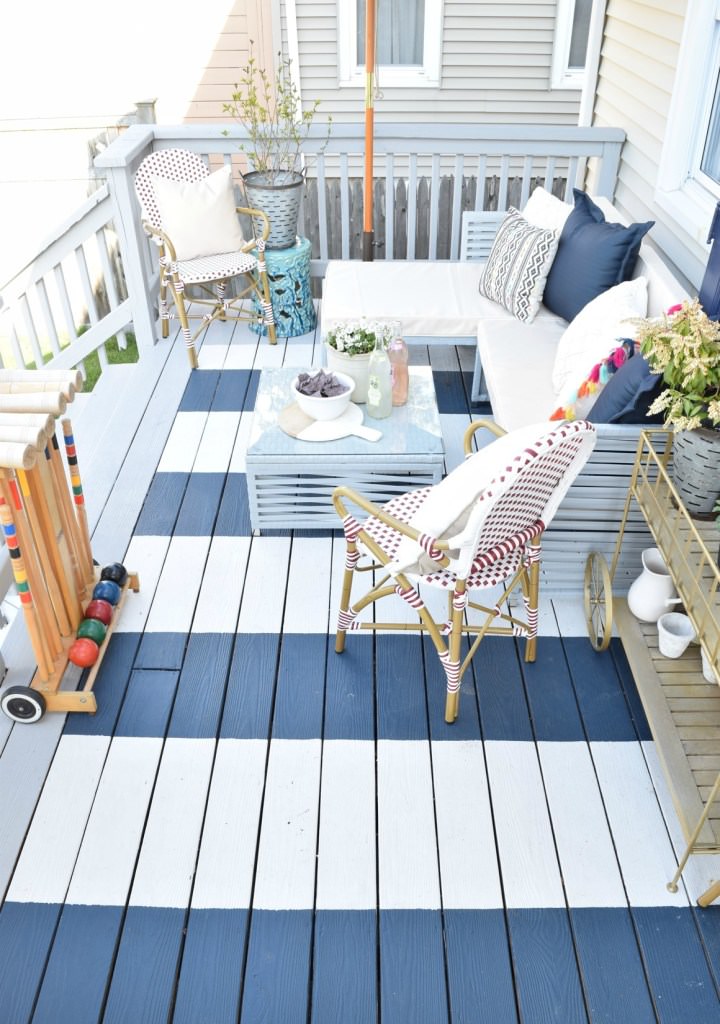 Painted Deck Floors
This chic and nautical painted deck DIY comes from Nesting With Grace. The floor can often be the forgotten element of outdoor design.
Don't leave it out! It can bring huge visual impact for very little money. You can paint a fun pattern, or even a large rectangular accent color to mimic a rug!
Use Potted Plants as Outdoor Decor
Potted plants are really the quintessential design element of outdoor decor, and your space won't look the same without them.

Color, gorgeous softness, texture, fragrance and the list goes on!

You don't have to buy expensive pots. With gorgeous flowers flowing out no one will care what the pot looks like! Grab some potting soil and a good pair of garden gloves and get to it!
Grill Utensil Outdoor Decor Idea
This smart and stylish idea comes from Lil Luna. I just love it! My grilling items are always falling off the side shelf of my grill and awkwardly sticking out underneath the grill cover. Turning them into a decor piece is such a great idea. The ornate hangers and white background are so darling.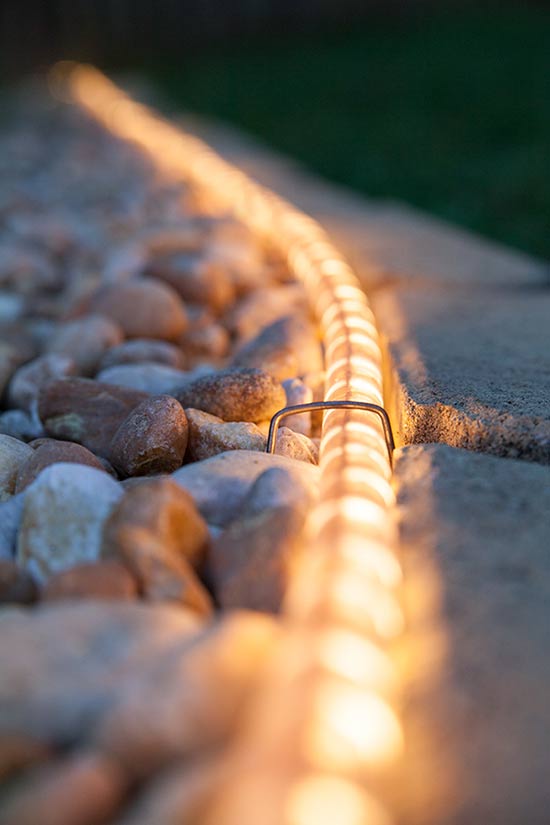 Outdoor Rope Lighting Decor Idea
Rope lighting is inexpensive and multifunctional. It's perfect to line edges of sidewalks and walking paths.
I included a number of awesome pictures from Christmas Lights Etc. to show you all of the cool ways you can use rope lighting to make your back yard, patio and decks come alive!

Lay rope lighting at the base of a rock wall to cast gorgeous feature lighting.

Use underneath the hand railing of your deck for beautiful functional evening light.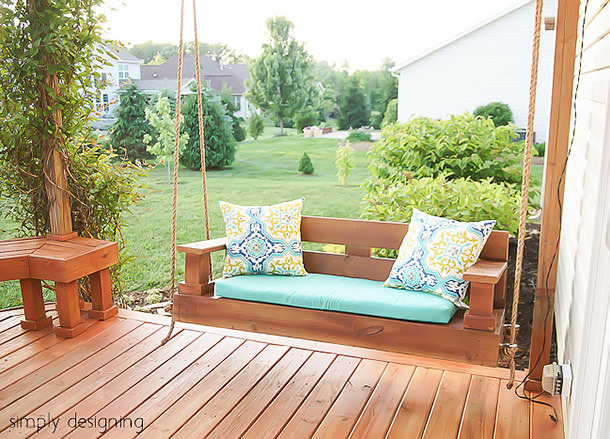 Add a Swinging Bench
A swinging bench makes any covered porch an instant relaxing station. This stylish and attractive DIY comes from Simply Designing. A couple throw pillows and seat cushion and your off with comfort and style.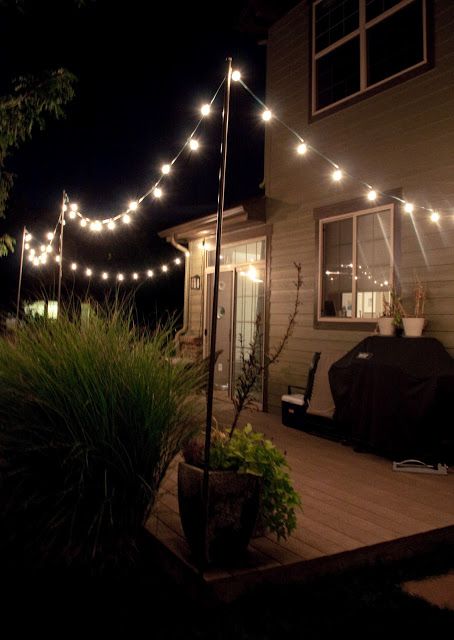 DIY Patio String Lights
The light show isn't over. These DIY String lighting really help define this open patio. They used rods driven around the corner of the deck as support posts in this idea from IDLights.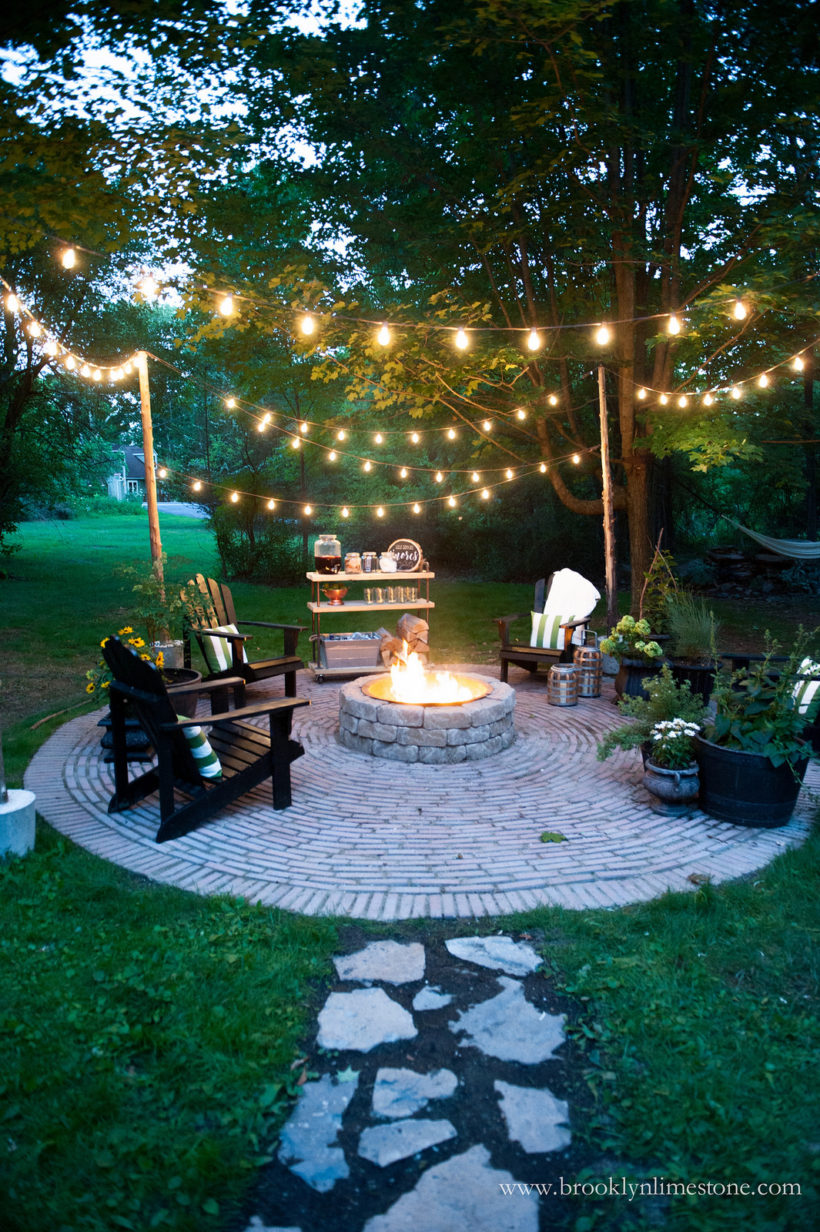 Build a Backyard Fire Pit
At first glance a fire pit like this may seem like a lot of work, but it doesn't have to be. In this picture from the Best Of DIY Ideas they used an awesome brick pattern for the floor. You could do something simpler like the circular rock floor pictured below.
Encircle a fire area with stones or boulders, add some comfy chairs and a couple throw blankets and you're set!
Feel free to pass along our link https://arlenebobbinteriordesign.com/ to friends and family you think might be interested in interior design services. We are offering a complementary phone call to discuss yours and their projects!