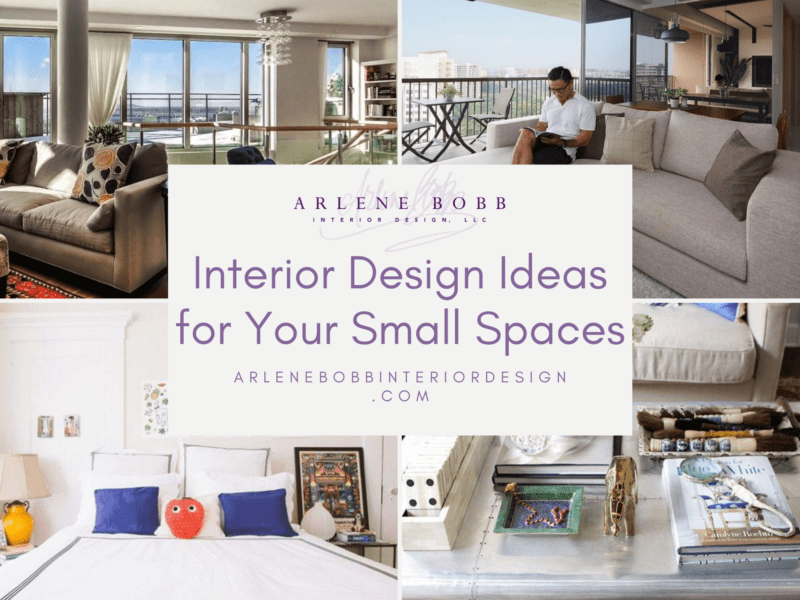 With people flocking to the cities and towns across the country, condos are popping up everywhere. Being smaller than single-family homes, decorating condos and apartments can be challenging since there is less space to work with. Here are some simple small space interior decorating tips and design ideas that can take your small space from boring to utterly magnificent!
There's a good chance your condo in the city lacks access to trees, plants, and nature as a whole. To bring a little bit of country into your city condo, invest in plants for your patio and indoors. If you're not interested in caring for plants, look for succulents or plants that don't need watering before 10 days.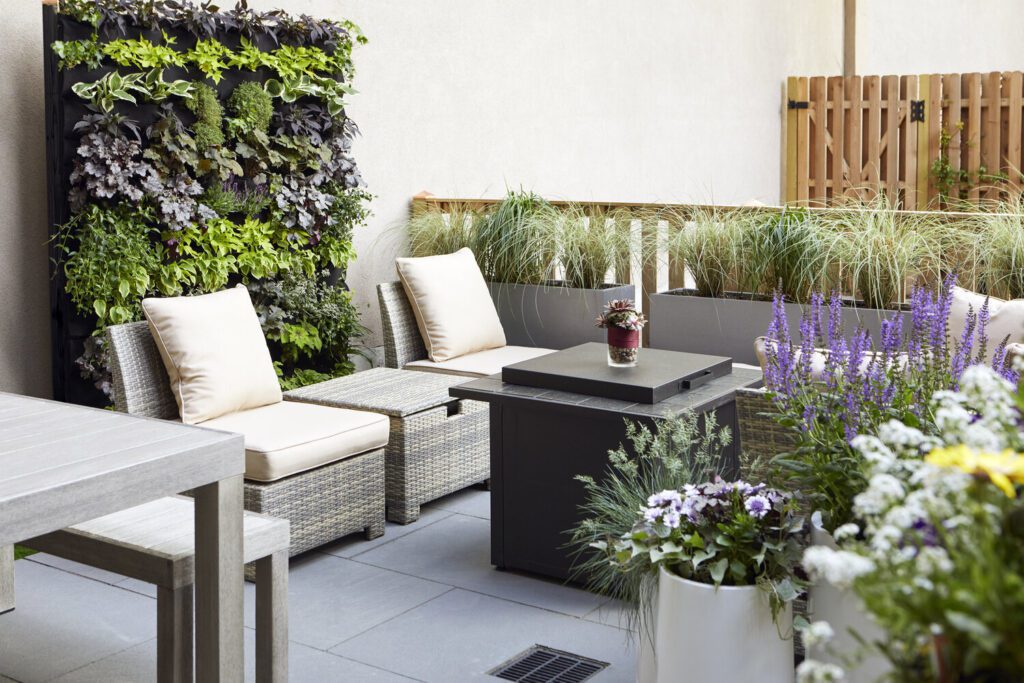 You can also invest in artificial plants so you have those little bursts of green around your condo without the hassle of care. Fresh flowers from your local farmer's market every week can also do the trick!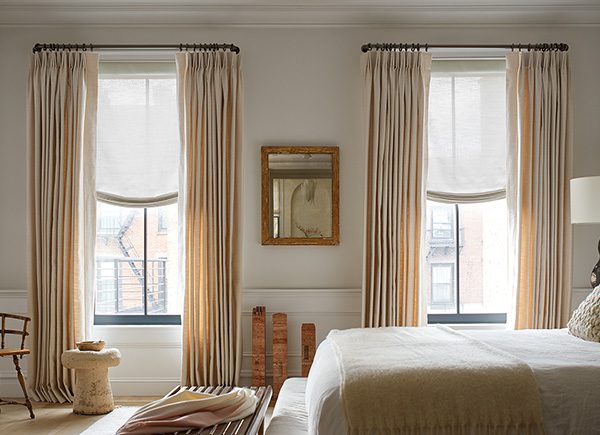 Layered Window Treatments
There are tons of styles and fabric options to choose from like embroidered, patterned, elegant, and eclectic. Black-out liner with drapery fabrics will block sunlight in the bedroom. Before selecting, make sure the color of the drapes complements the wall and furniture fabrics. Adding another layer of an interesting window shade provides more options for light control, privacy and insulation and of course- style.Draperies shouldn't be the focal point of the room but merely a nice addition that complements fabrics and style of design in the room. The trend today is "less is best" for a more minimalist and functional window treatment.
Let the Light Shine In
Natural lighting and an airy feel can have lots of added benefits in your home. Starting your morning in a bright and sunny room can lift your spirits before you even leave the house. Select window treatments to allow the natural light to be prevalent. Layering your light fixtures and using dimmers allows many options for accenting the areas of design.I tell my clients that lighting is a key element in designing a room.
Let Your Art Be an Expression of You
Art is a beautiful way to spice up your condo. Don't feel that every wall needs artwork or that colors need to match your fabrics!Find a wall with enough space to display your pieces in a grouping. You may also want to do interesting custom framing and matting for your pieces with the help of your gallery.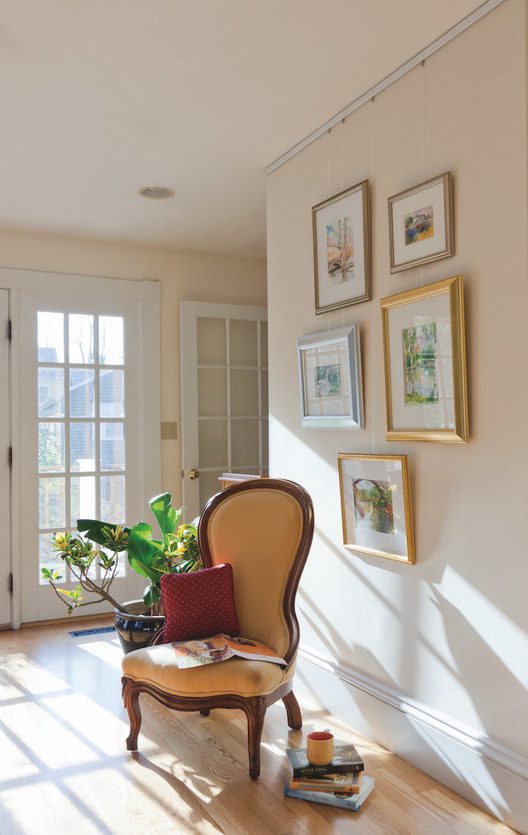 Mirror Mirror on the Wall, Who's Got the Smallest Space of Them All?
Using a mirror creates the illusion of a bigger space by reflecting what's already there. Don't be afraid to put a mirror in an unconventional space! Fun frames, like this reclaimed wood, will serve as decor, or an unframed mirror seamlessly blends into the wall and will enhance the magnifying effect.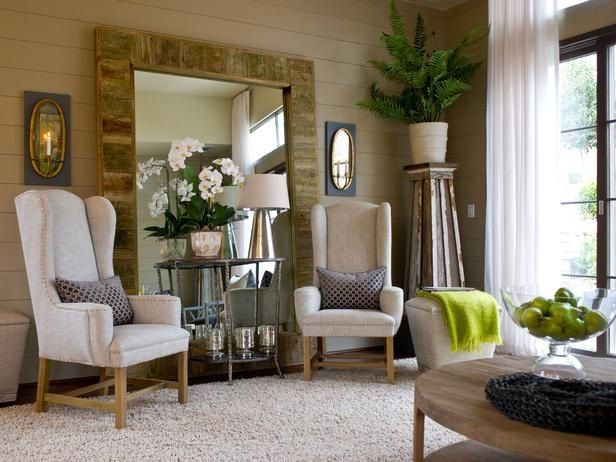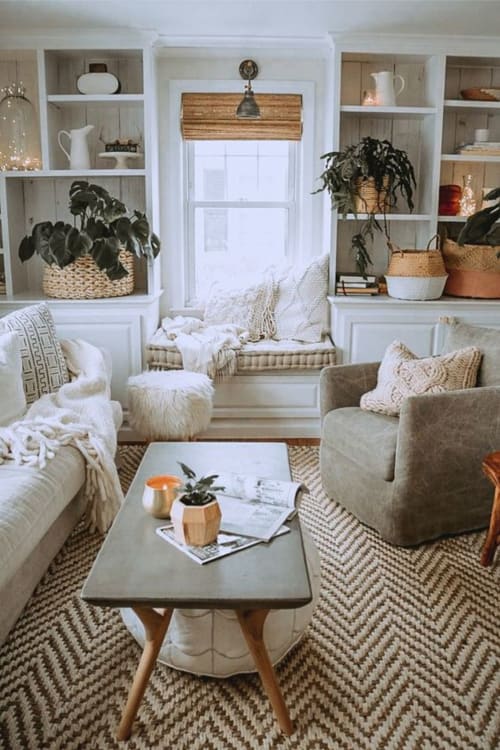 Use Color Carefully
While color is a fun way to spice up your home, in a small space it can quickly become overwhelming. Stick to a few splashes of bright hues (colorful books, bedding, or rugs are fun ideas) and keep everything else neutral.
Utilizing Space with Furniture
When picking out your furniture, make sure to have specific reasons for your pieces. You want to avoid having too much furniture, especially if it isn't functional. Minimalist decorations are always suitable for small rooms. White and soft pastels are vital to your decor elements like paint, furniture, and accessories.
Translucent materials will also help with openness. Metallic or mirrored pieces also will reflect light and bring in space.
Glass tops and lucite pieces give an impression of open spaces and deliver the function you need.

Removable Wall Murals and Wallpaper
An element to step up your decor game is wallpaper. A wallpaper accent wall or wallpapered hallway can be precisely what your condo needs. You can add a touch of extravagance in a smaller space without it feeling as overwhelming as a larger space. Do an accent wall in the living room or bedroom behind the sofa or bed. A hallway or powder room is a great place to experiment with fun styles because they are a smaller area that you don't spend a lot of time in.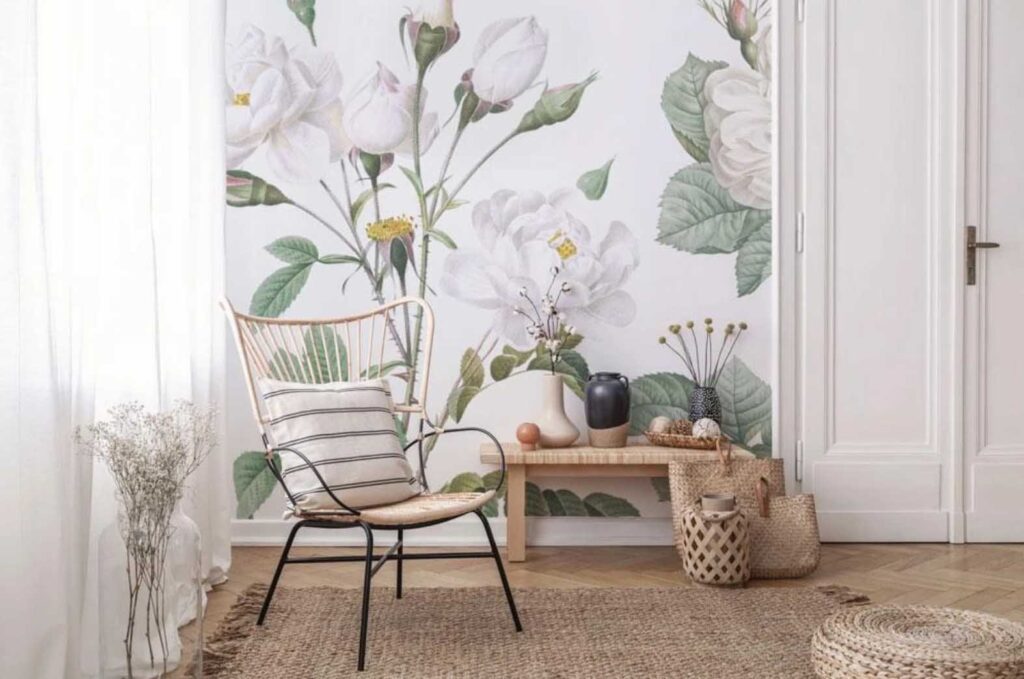 One of our favorite condo interior decorating ideas gets the first spot on our list today – a removable wall mural. Unlike paint, a removable mural is easy to install and even easier to remove, a perfect featured wall for apartment renters. With stunning, high-quality print options and images available, you can transform any room in your house into a beach oasis, yoga studio, jungle retreat, or perfectly darling nursery.
Curves
A smart condo interior design idea is to decorate with curved lines. Curvy sofas, circular mirrors, and oval nightstands can give an illusion that there is more space in the room than there is. Unlike squared off pieces, curved ones take up less space. Curvy sofas show more of a wall than rectangular ones.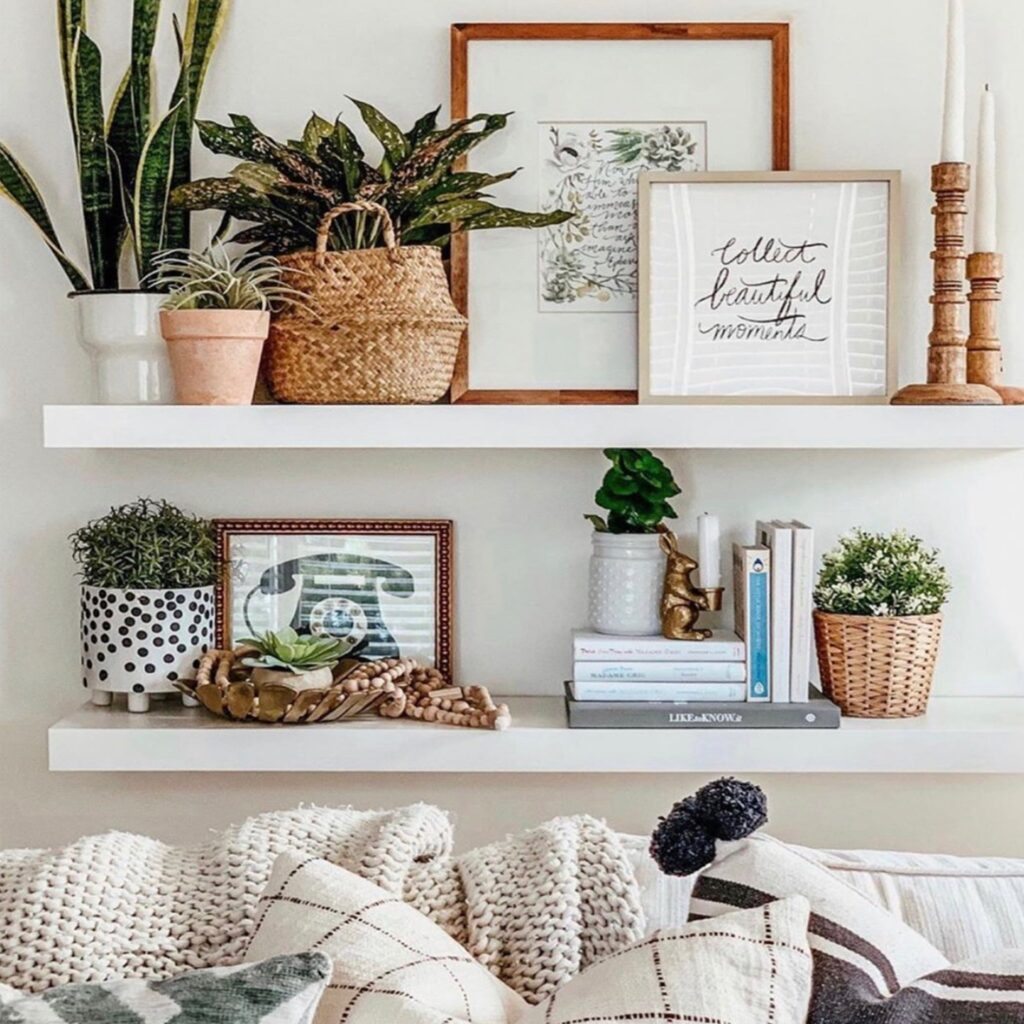 Wall Space is Useful (Floating Shelves)
Another home decor trend is floating shelves, and they are great for an apartment. Floating shelves have less bulk than regular shelves and therefore take up less space. They add a lot of storage space and look sleek and contemporary. Use them in the kitchen or living room, especially in apartments with few storage closets.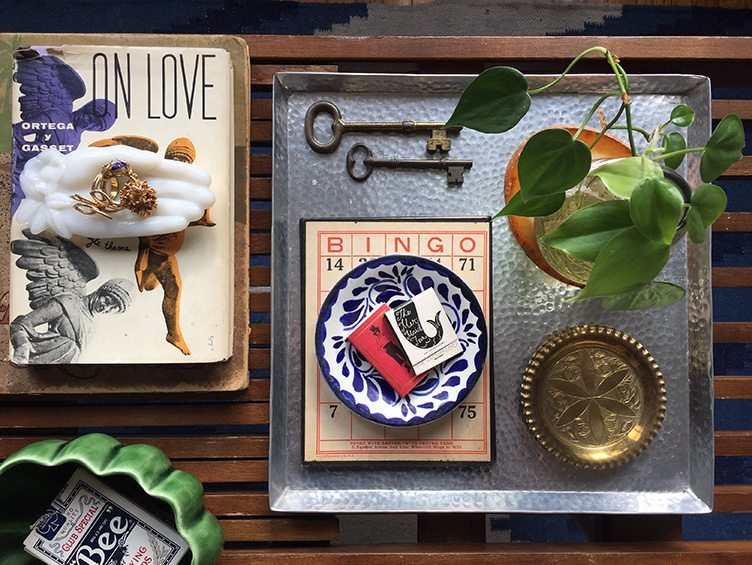 The Devil's in the Details
In a small space it can sometimes feel like there's not even enough room to let your personal design style show. Fix this problem by paying attention to the little details in your house that allow you to express yourself. Vases of flowers in your favorite colors, a vintage tray, or a mini-gallery wall of your personal photos can help. Constant and deliberate editing of your home is a must.
— If you would like virtual design at this time, please feel free to reach out. This now popular platform helps our homeowners make smart decisions and save time and money. We offer many vendors and can show you appropriate furniture and accessories as options for your specific design needson our virtual design calls.
–We're just a phone call or email away.–
610.308.3939
arlene@arlenebobb.com
Always the best,
Arlene