With so many people working from home these days, we've been flooded with requests to offer a simplified, one-room-at-a-time design experience. We figured, why not?
You're ready to work on a room. We're ready to help.
The ABID's Virtual Design Package includes a style quiz, two conversations with your designer, a floor plan, a color palette, and furniture recommendations!
What You Get
$795.00 for your first room
1. PRELIMINARY DESIGN QUESTIONNAIRE
so we can learn about you.
2. 45 MINUTE VIDEO CALL
to discuss one room in your home.
3. PERSONALIZED DESIGN PRESENTATION:
Furniture dimensions with your new floor plan
Paint color and color palette suggestions
Furniture suggestions
Delivered in a beautiful digital presentation!
4. DESIGN PRESENTATION CALL
to review your presentation together for 45 minutes.
5. PURCHASE FURNISHINGS (OPTIONAL)
Furniture presented can be purchased through Arlene Bobb Interior Design or retailers.*please note: virtual design package does not include furniture purchases or freight and delivery
ADD-ON OPTIONS:
Additional round of furniture options
Add another room design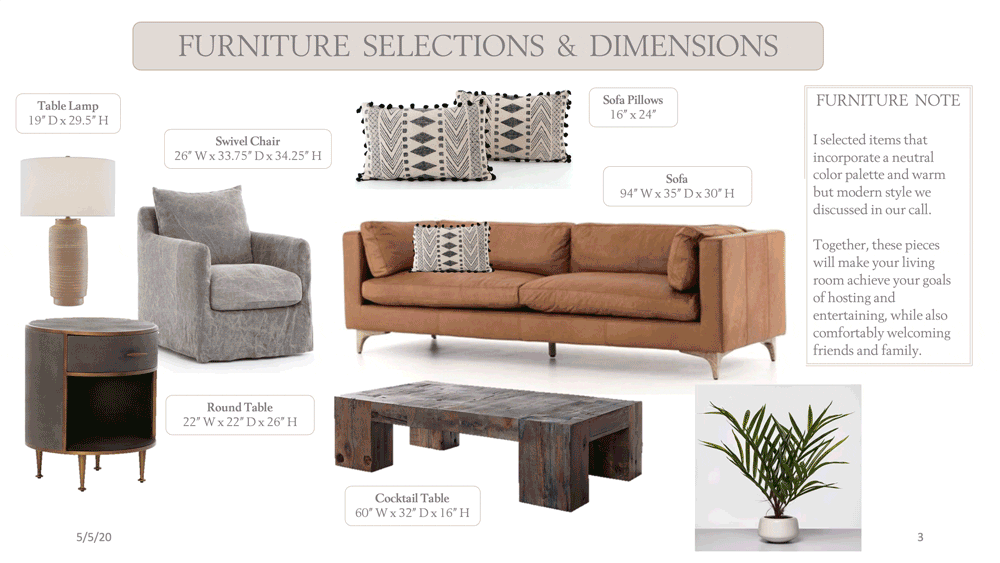 *Every client is different. This is an mock up.
1. HOW WILL YOU PRESENT MY ROOM DESIGN?
Your room design will be presented to you digitally during your 45 min presentation call. It will include a floor plan, paint color and color palette suggestions, and furniture suggestions (with dimensions) curated just for you. After your presentation call, your designer will email you the full digital design presentation for your reference!
2. WHAT IF I HAVE MULTIPLE ROOMS THAT I WANT TO WORK ON?
Then we want to help! We offer a special rate of $600 per room added on to your original package.
3. IF I HAVE AN OPEN-CONCEPT DINING AND LIVING ROOM, DOES THAT COUNT AS "ONE ROOM"?
Unfortunately, it doesn't. Please note that "one room" is defined by one function. However, a kitchen with an eat-in nook would counted as one room.
4. WHAT IF I WANT TO SEE MORE FURNITURE OPTIONS?
If you want to choose from more furniture than what's presented initially, we offer additional rounds of furniture presentations for an add-on of $300 per round.
Whether you're changing one furniture piece, one paint color, or all… we know the huge impact this has on your everyday life. We're here to make a hard decision easy… designing your home to work for your lifestyle.
5. HOW DO I SCHEDULE MY VIDEO CALLS WITH MY DESIGNER?
After you purchase your Virtual Design Package, you will be sent a questionnaire to fill out for us followed by a link to schedule your first appointment. Easy as that!
6. WHAT TYPES OF QUESTIONS WILL I NEED TO ANSWER ON THE DESIGN QUESTIONNAIRE?
We will ask you questions based on your style, color and pattern preferences. We'll want to know general measurements and information about your room. We will also ask questions related to your lifestyle needs and whether you're including existing furniture into your room design. There will be a design quiz you receive to help us find your design style!
7. WHAT APPLICATION DO YOU USE FOR A VIDEO CALL?
We use Zoom, and it's as easy as clicking a button to join the call! If you are more comfortable, phone calls , FaceTime and email work just as well!
— If you would like virtual design at this time, please feel free to reach out. This now popular platform helps our homeowners make smart decisions and save time and money. We offer many vendors and can show you appropriate furniture and accessories as options for your specific design needs on our virtual design calls.
–We're just a phone call or email away.–
610.308.3939
Always the best,
Arlene